The historical returns of small-cap stocks have exceeded those of mid-cap and large-cap stocks over long time periods. The additional return experienced by small-cap investors has occurred despite inherent disadvantages in the asset class.The excess return available from small-cap stocks can help large foundations, endowments, and other similar institutional investors overcome the drag of inflation and the drain of annual spending. These institutional investors are in a unique position to fund new and often untested managers who are in the best position to benefit from the return premium of small-cap stocks and from the relative lack of professional participation in the space. Click on the picture for more information about this small cap stock book.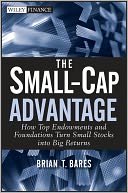 The Small-Cap Advantage: How Top Endowments and Foundations Turn Small Stocks into Big Returns is a must-have book for aspiring and existing small-cap managers and the institutions that would hire them. It is an insider's account of institutional small-cap investing. The book details the investment, fundraising, and operational challenges encountered by small-cap managers.
It also:Describes the evaluation issues encountered by institutions in their small-cap manager due diligenceReveals why small-cap stocks are a fertile hunting ground for investors seeking high returns over long time periodsDetails how top foundations, endowments, and other institutional investors can procure exposure to small-cap stocks through allocations to specialist managersExplores the reasons for small company outperformance and reveals how returns can be further enhanced through the careful avoidance of problem companiesExplains why the small-cap space is ideal for active management and why passive indexing may not be an optimal strategy for this asset classThe Small-Cap Advantage helps aspiring small-cap managers understand the state of the institutional investment management industry. It debunks the notion that small-cap managers who lack long track records or high levels of assets under management are undeserving of institutional funding. It explains the fundraising process for aspiring small-cap managers and how they can handle many of the challenges that come with successfully increasing strategy assets.
The Small-Cap Advantage provides endowment-model institutions with a deeper understanding of the unique issues faced by specialist boutique managers who focus on the small-cap space. It will also assist institutional due diligence teams in their evaluation of small-cap managers.